How To Make an Adult Video Website with Any WordPress Theme
Published May 11, 2022 by Chris
This tutorial assumes you already have a Tube Ace plugin license.
Today I'm going to show you how to use a different WordPress theme with the Tube Ace plugin. Yes, any WordPress theme of your choice can work with Tube Ace.
Shortcodes
First, we need to talk about shortcodes. Shortcodes in WordPress are short code blocks or "macros" that can be used on anyWordPress page to display certain content. WordPress plugins often have their own shortcodes, which can include photo galleries, playlists, buy now buttons, mailing lists, contact forms and so on. Again, plugin developers provide these shortcodes to display content within the WordPress powered website pages. The 'Tube' page has several shortcodes embeded into sections (newest, most viewed and highest rated).
Upon the Tube Ace plugin activation, several pages are created with shortcodes added to the page content: Categories, Highest Rated, Most Viewed, Newest, Porn Star List and Tube pages.
Categories page will show a list of categories which have videos within theme. shortcode: [tubeace_categories]
Highest Rated page will show the videos in order of rating, highest to lowest. shortcode: [tubeace_newest results="24″]
Most Viewed page will show the videos in order of view count, highest to lowest. shortcode: [tubeace_most_viewed results="24″]
Newest page will show the videos in order of publish date, with the latest videos shown first. shortcode: [tubeace_newest results="24″]
Porn Star List page will display a page of a list of porn stars in alphabetical order. Clicking on a star's name will display all the videos available in the site database for that performer. shortcode: [tubeace_post_star_list]
Tube page has the Highest Rated, Most Viewed, Newest shortcodes embedded.

Switching Themes
As mentioned earlier, you can use any WordPress theme with the Tube Ace WordPress plugin. Switching between themes in WordPress is very easy. Download new themes from the WordPress theme directory or upload a premium theme of your choice. The WordPress theme directory contains thousands of free WordPress themes and is the first place you should check for a theme to use for your WordPress tube site.



If you want a WordPress theme with more options, a premium theme from a theme marketplace such as ThemeForest may suit your needs.
Once you have your new theme downloaded from the WordPress theme directory or you have uploaded a premium theme, from the Appearance > Themes page, activate the new theme.
For the sake of this article, I have download a few free themes found in the WordPress theme directory and provided screenshots below of each.
Donovan Theme
The Donovan theme features a 2 column grid on the homepage with site accents in the color red. As described by the author: "Donovan is a flexible yet easy to use blogging theme with a clean and modern design. It features an elegant mobile first design, three different blog layouts and extensive post settings." Free and Pro versions of the Donovan theme are available.
The Porn Star List Page displays an alphabetical list of Porn Stars whose videos appear in the imported video database.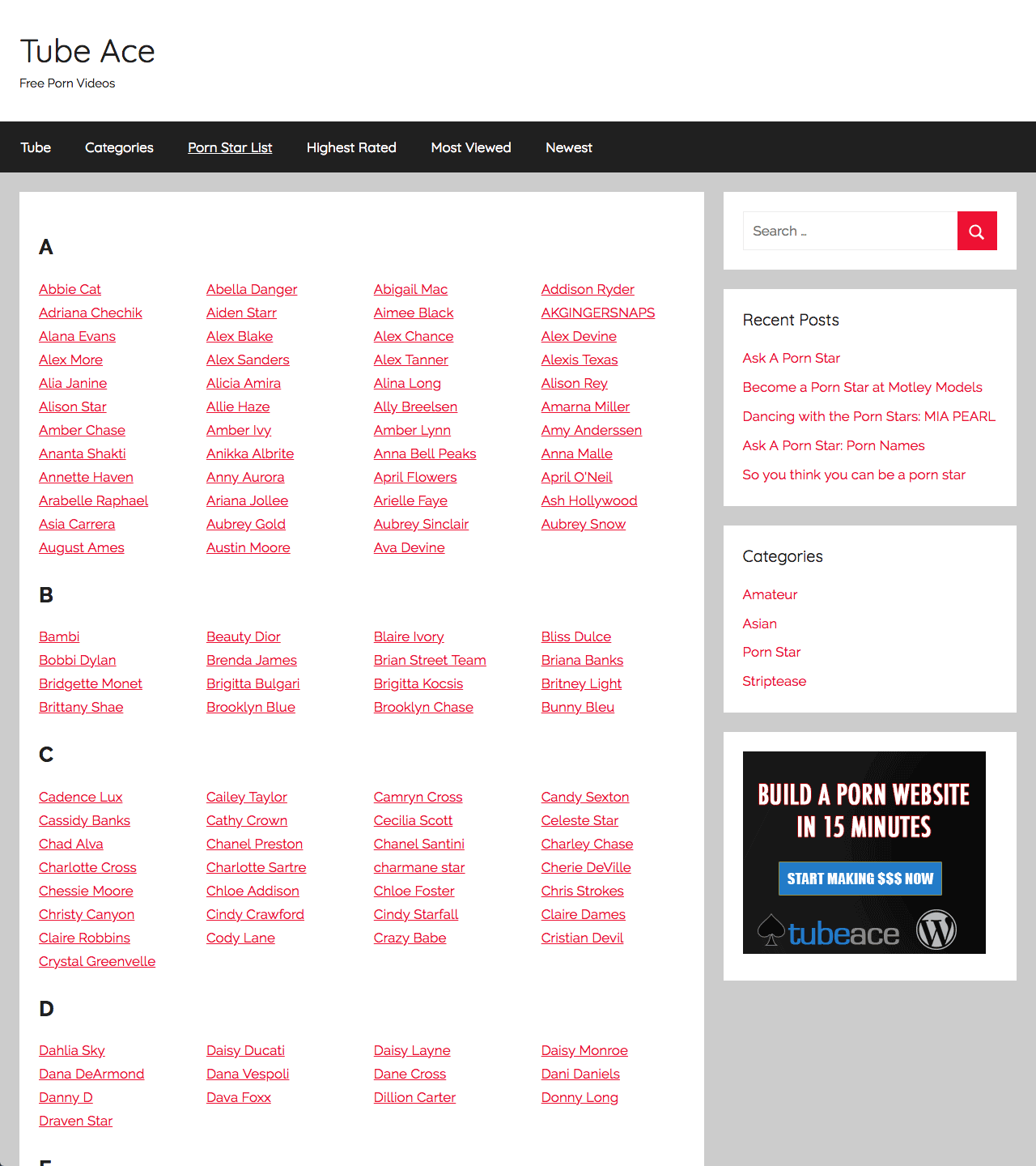 The Tube Page displaying all the sorting option sections: Newest, Most Viewed, Highest Rated

Customizing Video Previews
And now I'll show you how to customize the appearance of the video previews displayed by the shortcodes when using Tube Ace.
In the WordPress Customizer Menu, click Tube Ace Post Previews Options > Post Previews
From this Customizer pane, you can change every detail of the video previews. This includes text colors, fonts, border color, background color for all the data such as titles, duration, tags, categories, and porn star names.

In closing, Tube Ace WordPress plugin can be used with any WordPress theme through the use of shortcodes as the plugin offers many customization options for the display of the video previews.